BOTOX® Cosmetic
get results that show without telling.
BOTOX® Cosmetic (Botulinum Toxin Type A) is used to improve the look of moderate to severe forehead lines, crow's feet lines, and frown lines between the eyebrows in adults. Schedule a free consultation to see if you are the right candidate for this treatment. One of our providers will sit down with you to discuss treatment options and desired look or outcome.
What to Expect During the Procedure
BOTOX® Cosmetic targets one of the underlying causes of frown lines and crow's feet—the repeated muscle contractions from frowning and squinting over the years. Your highly skilled provider will inject these muscles with BOTOX® Cosmetic to temporarily reduce muscle activity. You will begin to notice a visible smoothing of your crow's feet lines and frown lines between your brows. The overall procedure usually takes about thirty minutes to one hour.
What to Expect After the Procedure
After your BOTOX® Cosmetic Injections, you can resume your day right away. The treated areas will be more relaxed, creating a softer more polished look. There may be slight redness to the treatment areas, which may last about thirty minutes to an hour. You will begin to notice results three to five days following your injections and Botox® generally lasts between three to four months. It may take up to two weeks to see the full effect.
JUVÉDERM® Ultra Plus XC
Lift, smooth, or plump your way to subtle results that last.
JUVÉDERM® Ultra Plus XC injectable gel is used to reduce and smoothen the appearance of wrinkles and add volume to the face. The syringe consists of hyaluronic acid gel, a natural protein found in our bodies. JUVÉDERM® Ultra Plus XC can be injected into cheeks, chin, marionette lines, nasolabial folds, and tear troughs. JUVÉDERM® Ultra Plus XC injectable gel can also be used in the lips to create fuller lips or a more symmetrical lip appearance. JUVÉDERM® Ultra Plus XC will improve one's facial appearance by adding desired volume and fullness to the specified area(s).
Come in for a free JUVÉDERM® Ultra Plus XC consultation. We will help you decide the best options for your facial and aesthetic needs.
What to Expect During the Procedure
Your highly skilled provider administers the treatment during a brief office visit. JUVÉDERM® Ultra Plus XC contains lidocaine to help minimize discomfort during treatment. If you're still concerned about treatment discomfort, Dr. Desvigne may offer additional anesthetic options for you. The JUVÉDERM® Ultra Plus XC injectable gel will be placed into the designated areas by using a syringe. The results of the injectable are immediate and the treatment usually takes thirty to forty minutes.
what is hyaluronic acid?
Hyaluronic Acid (HA) is a naturally occurring substance that delivers nutrients to the skin, helping the skin retain moisture, softness, and adds volume.
What to Expect After the Procedure
After the procedure the area may be slightly red and swollen. You will be provided with a reusable ice pack to use throughout the day. The ice packs are used to help minimize the swelling, redness, and bruising of the injection site. The results of JUVÉDERM® Injectable Gel will last up to six months to one year after your treatment.
VOLBELLA®
YOUR LIPS ARE AS UNIQUE AS YOU ARE.
WHAT IS VOLBELLA®?
VOLBELLA® increases lip fullness and softens the appearance of lines around the mouth. Whether your lips were naturally thin or full, VOLBELLA® is used to restore the fullness of your lips and to correct their balance and symmetry.
VOLBELLA® is one of Allergan's newest dermal fillers and is becoming increasingly more popular. Call to speak with one of our highly skilled providers about VOLBELLA®.
What HAPPENS DURING MY VOLBELLA® treatment?
During your treatment, you will experience a comfortable experience. VOLBELLA® adds subtle volume to lips and softens the appearance of vertical lip lines. A typical treatment will have you in and out of our office within forty-five minutes. After your VOLBELLA® treatment, you may experience slight redness.
VOLUMA®
What areas can be treated using VOLUMA®?
VOLUMA®  is used specifically in the cheek area. It is used in adults over 21 years of age that correct age-related volume loss. It is also the only hyaluronic acid filler FDA-approved to instantly add volume to the cheek area.
how long does the treatment last?
The treatment lasts about thirty minutes to one hour. You will leave with more plump and youthful skin after your first treatment.
does the treatment hurt?
VOLUMA® is easily injected into the skin to minimize your discomfort during your treatment. A topical anesthetic is used to minimize discomfort.
what results will i see from VOLUMA®?
Your cheeks will appear more plump and youthful. VOLUMA® injectable gel lasts for eighteen to twenty four months.
RADIESSE®
Diminish the Effects of Aging with radiesse®
RADIESSE® is a wrinkle filler used to plump the skin. RADIESSE® immediately replenishes lost volume and stimulates the production of your own natural collagen with results that can last a year or more in many patients. This allows the treatment results to be both immediate and long-lasting.
HOW does radiesse® WORK?
RADIESSE® is injected through a small needle and placed under the skin. Immediately, this filler works to add volume under the skin and the benefits of RADIESSE® continue by stimulating your body's own natural collagen. Over time, the gel is absorbed and the body metabolizes the microspheres leaving behind only your own natural collagen.
KYBELLA®
if you can pinch it, we can treat it with KYBELLA® (deoxycholic acid)
Now you can say GOODBYE to your DOUBLE CHIN! KYBELLA® is a FDA approved, non-surgical injectable for reducing moderate to severe fat below the chin, the area commonly known as a "double chin." This treatment will help with the appearance of your chin and neck region.
How does KYBELLA® work?
The active ingredient in KYBELLA® is synthetic deoxycholic acid. Deoxycholic acid is a naturally occurring molecule in the body that aids in the breakdown and absorption of dietary fat. When injected into the fat beneath the chin, KYBELLA® destroys fat cells, resulting in a noticeable reduction in fullness under the chin. Once destroyed, these cells can no longer store or accumulate fat, so further treatment is not expected once you reach your desired aesthetic goal.
At each treatment, you will receive multiple small injections under your chin. The exact number of injections will depend on the amount of fat you have under your chin and your desired profile. The treatment usually lasts about fifteen to twenty minutes.
can i treat another area of my body with KYBELLA®?
Yes, you can treat other areas with KYBELLA®. Ideally, any fat which can be pinched by your fingers can be removed through the injection process. KYBELLA® can help to reduce fat in the following areas: fat above the breasts, inner knee fat, outer thigh saddlebags, armpit fat, back fat (bra fat), and lower buttock fatty folds. Call for more information.
Can I see before and after photos of KYBELLA® treatment?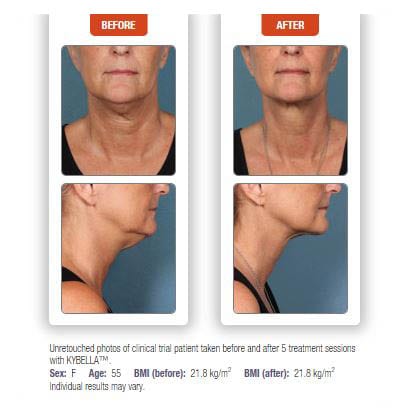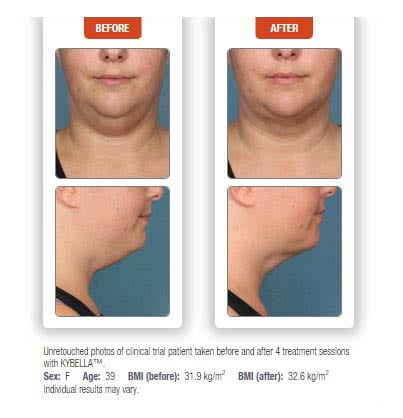 Individual results may vary.
How long do the results of KYBELLA® last?
KYBELLA® results are permanent. Once the aesthetic response is achieved no further treatments will be required unless you gain weight. As with any cosmetic procedure, the aging process continues to occur, so the regular effects of time can degrade the results.